Twelfth Night Tickets
An all-male cast takes on Shakespeare's gender-bending love story Twelfth Night with winning results. This classically staged comedy is a treat for fans of the Bard and an unforgettable night at the theater, even for those not familiar with Shakespeare's work.
Discount Offers on Twelfth Night Tickets
Marketplace Tickets
Sorry, there aren't discounts right now. Browse reseller tickets for Twelfth Night.
Stay up-to-date when new discounts are available.
Sign Up
Photo Gallery for Twelfth Night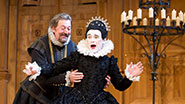 Stephen Fry as Malvolio and Mark Rylance as Olivia in Twelfth Night.
Mark Rylance as Olivia in Twelfth Night.
Paul Chahidi as Maria and Colin Hurley as Sir Tobey Belch in Twelfth Night.
Mark Rylance as Olivia and Stephen Fry as Malvolio in Twelfth Night.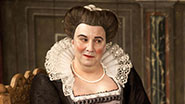 Paul Chahidi as Maria in Twelfth Night.
Peter Hamilton Dyer as Feste in Twelfth Night.
About Twelfth Night - On Broadway
Categories
Broadway • Classics • Comedy • Great for Dad • Great for Grad • Great for Her • Plays • Revival • Shakespeare
Community Reviews
Summary
Outrageous high comedy ensues as the pangs of unrequited love affect the unforgettable characters of Shakespeare's Twelfth Night. While the lovelorn Duke Orsino plots to win the heart of the mourning Olivia (Mark Rylance), an alliance of servants and hangers-on scheme against the high handedness of Olivia's steward, the pompous Malvolio (Stephen Fry). When Orsino engages the cross-dressed Viola, who has disguised herself as a young man under the name Cesario, to plead with Olivia on his behalf, a bittersweet and hilarious chain of events follows. Direct from a sold-out run in London's West End, the critically-beloved Shakespeare's Globe productions of Twelfth Night and Richard III, starring two-time Tony winner Mark Rylance, come to Broadway for a 16-week limited engagement. These classics, performed in repertory, are presented in the custom of how Shakespeare's plays were originally staged, with an extraordinary all-male company playing male and female roles; actors participating in the pre-show ritual of dressing and preparing their make-up on stage, in front of the audience; music played live on traditional instruments; and lighting created almost exclusively by 100 on-stage candles, adding to the intimate and authentic atmosphere.
Sign up for BroadwayBox Discount Alerts
Receive exclusive theater offers from us directly to your inbox. As new Broadway and Off-Broadway discounts are available, we will send them your way!
You can change your alert subscription options at any time.