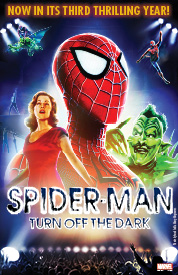 Spider-Man, Turn Off the Dark Reviews
See Broadway's most talked about and daring musical live on stage. Spider-Man, Turn Off the Dark brings the adventures of the classic comic character, his girlfriend Mary Jane and his archenemy the Green Goblin to vivid life. No other show in New York has jaw-dropping stunts like Spider-Man.
Latest Reviews
a very impressive nignt!
Written on October, 14th 2012
First time on Broadway and it was a great debut!! The theater, scenario, musics and actors made a very impressive nignt!
good show
Written on March, 02nd 2012
I went to see the show with 14 years old and he loved the show. He said He will go. He rated the show four stars. I took that as thumb up.
Spider man might have saved broadway
Written on August, 25th 2011
best show on broadway took my breath AWAY and brought me to tears.
Best Show I Have Seen In Awhile Up There With Wicked
Written on July, 26th 2011
Blew me away one of the best on Broadway if you are lucky see this amazing show
Great show for the family.
Written on July, 02nd 2011
High energy show, first act is a little slow, great vocals, amazing special effects, second act will blow you away.
Spider-Man is pure joyous entertainment!
Written on June, 05th 2011
Spider-Man:Turn Off the Dark seems to have fixed the problems that plagued it in earlier productions. The sets, costumes, music, choreography, and all the flying around is absolutely amazing. This play will have wide appeal--I sat next to some fifth graders, and I was as enthralled as they, and I'm 60+! The cast is great and the music is memorable, too, and I think that once this musical officially opens that it will rank right up there with Les Mis, Phantom, and Evita. I cannot wait to see Spider-Man again; it's pure joyous entertainment.
Great show for all ages!
Written on May, 26th 2011
Saw the show on 5/21/11. Loved it!! All the publicity the show received we decided to go and see for ourselves. Great show very entertaining for people of all ages. Loved the songs and how well put the play was. It kept with the cartoon feel plus added the broadway feel. See it for yourselves.
Beyond Expectations ...
Written on May, 25th 2011
I was searching for an "Intro to Musicals" for a 21-year-old first-time visitor to NYC and thought "Spider-Man" would at least keep him entertained. Instead, I discovered I thoroughly enjoyed one of the most unique musicals I've experienced in a long time. After seeing most of the 'top' shows on Broadway through the years, this proved to be a high-energy quick-paced spectacle with great music, cartoonish (yet high-tech)classy sets which leave you wondering what would come next. Well-cast with excellent talent, and strong vocals that complement a new yet slightly familiar storyline. Exhausting 'fight' and 'flight' sequences are impressive. Overall, one of the best investments on Broadway! Select seats mid theatre.
Venue
Sign up for BroadwayBox Discount Alerts
Receive exclusive theater offers from us directly to your inbox. As new Broadway and Off-Broadway discounts are available, we will send them your way!
You can change your alert subscription options at any time.