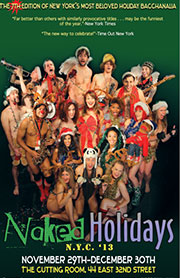 Discount up to 50%
Naked Holidays Tickets
Naked Holidays returns off-Broadway for a flesh-filled evening of non-traditional holiday mischief, music and merriment.
Discount Offers on Naked Holidays Tickets
Tickets just $22.50
Valid for performances through December 30, 2013
Copy the code below before proceeding.
Discount up to 50%
Regularly $45 • Expires December 30th, 2013
More Options To Buy
Discount Details
$22.50 Orchestra
The Fine Print
Offer not valid on previously purchased tickets and may not be combined with any other offer. All sales final. Blackout dates and other restrictions may apply. Offer may be revoked without notice. Offer is valid for performances through December 30, 2013.
You may buy regularly-priced tickets from the box office.
Buy Tickets
About Naked Holidays - Off Broadway
Categories
Comedy • Holiday Shows • Interactive • Mature Audiences • Musicals • Off-Broadway • Special • Unique Events
Community Reviews
Summary
New York City's naughtiest holiday tradition is back with more singing, more dancing, and more naked! Now in its seventh year, Naked Holidays is a darkly comic Yuletide bacchanalia of theater, music and burlesque. This boisterous holiday celebration puts a bawdy spin on some of our best-loved winter traditions. With all-new musical numbers, and sketches, and the traditional full-monty closer "The Naked People Play," Naked Holidays is sure to deliver more holiday cheer than you've felt since puberty.
Venue
Sign up for BroadwayBox Discount Alerts
Receive exclusive theater offers from us directly to your inbox. As new Broadway and Off-Broadway discounts are available, we will send them your way!
You can change your alert subscription options at any time.