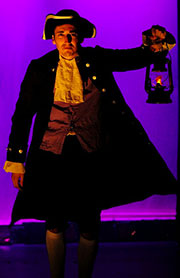 Hollow The Musical Tickets
Hollow is a new musical inspired by The Legend of Sleepy Hollow. This dark, exciting musical follows the adventures of the headless horseman, and is the best way to spend Halloween in New York.
Discount Offers on Hollow The Musical Tickets
Sorry, this show has closed.
About Hollow The Musical - Off Broadway
Running Time
1 hour and 15 minutes (no intermission)
Categories
Classics • Musicals • New • Off-Broadway • Special
Community Reviews
Summary
A heart-breaking triangle, a heart-racing chase—a mystery unsolved for centuries—the Legend of Sleepy Hollow. Careless lovers taunt a fragile man with a treacherous dance that spins out of control. One man will triumph and both men will lose, several will squander their souls.

Dark secrets lurk in the Hollow, echo through the woods and drive men mad. The crush of their steps as they run from the truth is deafened by their pounding hearts. Reckless they race although keenly aware that one false stride may lose them their head.

Hollow features Timothy Bartlett (Ichabod Crane), Jonathan Bethea (Hans van Ripper), Maggie Cummings (Katrina van Tassel), Megan Corcoran (Anna), Eric Fletcher (Henry), Brianna Hurley (Lady van Tassel) and Nathan Oesterle (Brom van Brunt),
Venue
Sign up for BroadwayBox Discount Alerts
Receive exclusive theater offers from us directly to your inbox. As new Broadway and Off-Broadway discounts are available, we will send them your way!
You can change your alert subscription options at any time.