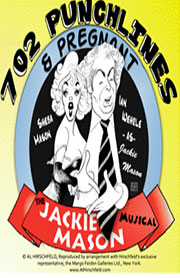 702 Punchlines & Pregnant:The Jackie Mason Musical Reviews
Billed as "a true Miami Beach love story," 702 Punchlines and Pregnant: The Jackie Mason Musical chronicles comedian Jackie Mason's 10-year relationship with Ginger Reiter and birth of their lovechild, Sheba (the show's playwright and star).
Latest Reviews
Venue
Sign up for BroadwayBox Discount Alerts
Receive exclusive theater offers from us directly to your inbox. As new Broadway and Off-Broadway discounts are available, we will send them your way!
You can change your alert subscription options at any time.